Galaxy Gas Whipped Cream Dispenser – Nitro Stockholm Syndrome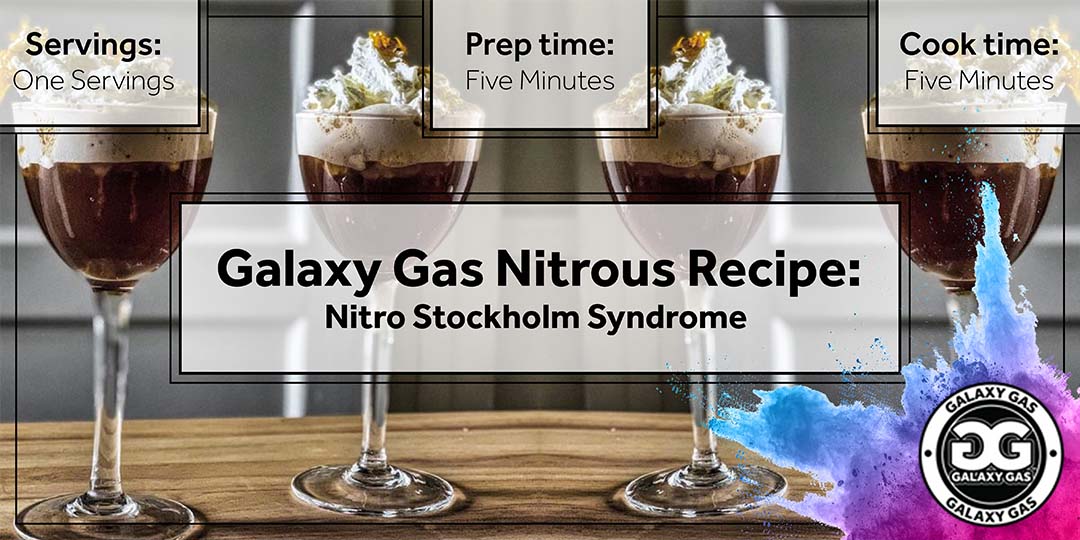 Are you looking for a dessert cocktail that is creamy, delicious, and perfect for a party? Well, then this is the perfect recipe for your fine evening party. You can have your own healthy homemade cream as the topping and a delicious cocktail to serve at your party. This Nitro Stockholm Syndrome is the debauched dessert cocktail prepared by combining fernet, bourbon, whipped cream, and brew coffee.
This recipe lies under the whiskey cocktails category and is very simple to prepare. You can appreciate this drink alone in your free time or can serve it at a celebratory party to your guests. Also, since it included a dash of cold brew coffee, you can have it after a long day during your late evening time to give yourself a boost to get over with your day. The special homemade whipped cream in this recipe is amazing as it has juice from blood oranges and other healthy ingredients, which makes it a herbal cocktail that you can include in your drinking list with ease.
To prepare this delicious and herbal, sweet, decadent dessert cocktail, all you need is very few ingredients, a few tools, and only ten minutes from your daily routine. And you will have this delicious Nitro Stockholm Syndrome on your table in no time. The
Galaxy Gas Whipped Cream Dispenser
makes the special homemade whipped cream extravagantly frothy, light, creamy, and perfect for the recipe.
This drink does not cost much the ingredients are easily available, and if you are not a great cook in the kitchen, you can still prepare this delicious dessert cocktail and impress your guest, friends, and family. This bitter-sweet dessert cocktail can give you the energy boost you need with the sweet taste and all the appreciation that you require.
This recipe is a great way to turn your cold brew coffee, some bourbon, and homemade special whipped cream into a delicious cocktail by introducing the coolness of NO2 by using the whip cream canister. Let's pick up how you can make this unique recipe from below.
| | |
| --- | --- |
| Level | Intermediate |
| Total time for making the recipe | 10 Minutes |
| Preparation | 5 Minutes |
| Inactive | None |
| Cooking time | 5 Minutes |
| Yield | 1 Serving |

Apparatus:
⦁ Whipped Cream Canister
⦁ Whipped Cream Charger
⦁ 1 and ½ oz. of Bourbon
⦁ ¾ oz. of California Fernet
⦁ 2 oz. of Cold Brew Coffee
⦁ ½ oz. of Demerara Simple Syrup

This recipe is divided into two stages.
First, you have to prepare the special homemade whipped cream and then make the cocktail.
To prepare the special homemade whipped cream, you have to take a small to medium-sized bowl and add in 2 oz. of California orange liqueur and 1 oz. of fresh blood orange juice. Then, please give them a good stir.
Then pour in 12 oz. of cream and mix again until combined. Finally, pour these contents from the owl into the Whipped Cream Canister.
Shake the canister eight to ten times vigorously and charge it with a single whipped cream charger. Then, shake it again vigorously a few times.
Then place the canister inside the refrigerator to keep the whipped cream cool.
Take a mixing glass and add in bourbon, California Fernet, Demerara simple syrup, and cold brew coffee to prepare the cocktail. Stir all the ingredients and then add in ice.
Again give it a good stir and now take your serving glasses and pour this mixture into it.
After straining the mixture in the serving glasses, please take out your

W

hipped 

C

ream C

anister

, shake it well and dispense the vanilla whipped cream on top of the cocktail and finally, garnish the cream with some blood orange zest, and your drink is ready!
You can use one or two whipped cream chargers depending on the size of your canister and the quantity of recipes you are making.
What is California Fernet?
California Fernet is a drink that is the creation by Geijer Glögg Inc. It is a rich and complex new product added to the Amari landscape. This drink uses twenty-one herbs, spices, roots, and various other botanical materials to get its grassy and dry flavor that is not too sweet like the other types of fernets. Other fernets are extra sweet compared to this one, which has a grassier flavor and has an ABV of 40% usually and belongs to the San Francisco region California, United States of America.


What is the difference between Bourbon and Whiskey?
Both bourbon and whiskey are different as bourbon is made with a minimum of fifty-one percent of corn, if not more. It is always left to age in the New charred barrels made up of oaks and compared to whiskey; bourbon must hit certain ABV marks like it should have less than 80 proof before filtering, and usually, bourbon does not need to come from Kentucky. Still, few are designated to this place, these are the few differences between bourbon and whiskey, but there are more, so always remember that bourbon and whiskey are both different drinks.
What are the best Bourbon Cocktail recipes?
There are many Bourbon cocktails that are amazing, like our Nitro Stockholm Syndrome. Then there is bourbon sour, boulevardier cocktail, New York sour, Kentucky mule, bourbon sidecar, maple bourbon smash, john Collins, gold rush cocktail, bourbon Manhattan, classic old fashioned, whiskey high ball and blackberry bourbon smash, and many more. You can make all these delicious cocktails with high-end bourbons and affordable bourbons like Evan Williams black label, four roses bourbon, New Riff Kentucky Straight bourbon, four roses single barrel, Stellum Bourbon, Buffalo Trace William Larue Weller, and more.


Why does NO2 Gas infusion work so fast?
The NO2 gas infusion works fast because it is all about the level of pressure produced. The Whipped Cream Canister is a small space, and the whipped cream cartridges contain NO2 gases that are screwed on the canister; the nitrous oxide is then released in the canister at really high pressure as the space is compact. This enables all the ingredients to present inside the canister to combine perfectly with each other and provides a stronger taste due to this rapid infusion procedure compared to the slow processes that take the flavors slow and infuse within days.
-
---