Galaxy Gas Whipped Cream Dispenser – Nitro Keto Whipped Cream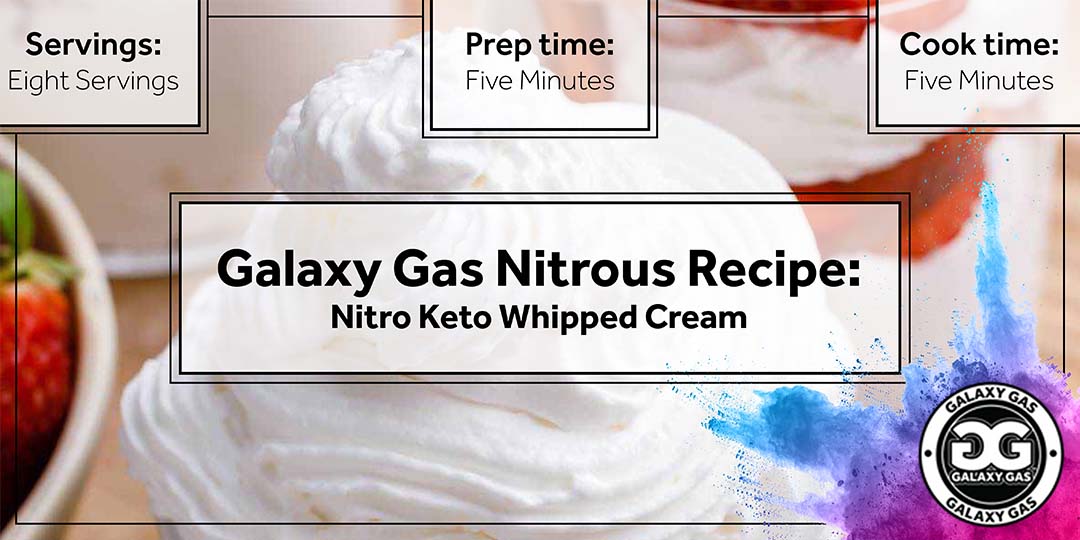 Whipped cream is something that almost everyone loves, but the people on a diet cannot consume it with ease as it has calories that they cannot intake. So, here is a recipe for all the diet conscious and healthy eating lovers. This Nitro Keto Whipped Cream is amazing as it can be made with sugar and without sugar and is keto-friendly, so people on a keto diet can enjoy it completely. It is almost carb-free and can quickly transform into an amazing vanilla mousse that you can enjoy without any extra additions to the recipe.

This recipe is super tasty and super delicious, and you can use it on top of any dessert or even drinks like a creamy, fluffy, and delicious topping. It is a low-carb whipped cream, and you can enjoy it with keto chocolate mousse, different other carb-free, and keto recipes, and get your shot for energy to have a kick start for your day.

To make this delicious and low-calorie cream, you will need only three ingredients and only a single piece of equipment, along with approximately ten minutes from your time to whip and prepare this amazing Nitro Keto Whipped Cream. The Galaxy Gas Whipped Cream Canister makes this whipped cream extra thick so that it can be served as a mousse or can be used as simple cream and also makes it extra creamy, delicious and smooth at the same time.
The ingredients of this delicious topping or dessert are easily available in your home or the market, making it a very low-budget whipped cream. It is really simple to make and does not require much preparation or effort, but the ingredients are used, and you should chill the equipment before preparing this recipe so that the Nitro Keto Whipped Cream is perfect.

You can make this whipped cream with the coolness of NO2 through the Whipped Cream Canister and use this excellent fat booster to your keto diet to get the maximum benefits. And you can also make huge batches with this simple recipe by increasing the quantity of the ingredients, and you can enjoy this creamy sugar-free and delicious recipe. So now, without wait let's see how we can prepare this delicious carb-free recipe and enjoy various dishes.
| | |
| --- | --- |
| Level | Beginner |
| Total time for making the recipe | 10 Minutes |
| Preparation | 5 Minutes |
| Inactive | None |
| Cooking time | 5 Minutes |
| Yield | 8 Servings |

Apparatus:
⦁ Whipped Cream Canister
⦁ Whipped Cream Charger

⦁ 1 cup of heavy whipping cream
⦁ 1 teaspoon of vanilla extract
⦁ 1 tablespoon of sweetener
Take a medium-sized bowl and add in your heavy whipping cream, sweetener, and vanilla extract.
Mix all of these together in the mixing bowl till all of them are completely combined.
Then transfer all the contents from the bowl to the whipped cream canister. You can also use the handheld electric mixer to beat the cream till soft peaks are formed and then transfer the contents to the whipped cream canister.
Screw the whipped cream canister and charge it with a single whipped cream charger, then shake the canister strongly and dispense the whipped cream.
You can top this whipped cream with anything.
Can you freeze the Nitro Keto Whipped Cream?
No! You cannot freeze the Nitro Keto Whipped Cream. If you want to store your whipped cream for a longer time and are afraid that you cannot keep up with the logic of stiff peaks, soft peaks and do not want to overbeat the mixture and convert it into butter. You can easily use the whipped cream canister as you can use it and make perfect cream that can be stored in the whipped cream canister for up to at least two days or more rather than only for two or three hours.

How can you make it without the Whipped Cream Canister?
To make it without the Whipped Cream Canister, all you have to do is take a handheld electric mixer or a stand mixer. Add all the ingredients in a medium-sized mixing bowl but make sure those ingredients are chilled before use and start whipping them. Whip them till soft peaks are formed that will take around two minutes and then stop and again beat so that stiff peaks are formed for one minute if you are making vanilla mousse. Do not beat it more as it will turn it into butter, and use the whipped cream immediately.
How to serve this Nitro Keto Whipped Cream?
There are many options through which you can serve this Nitro Keto Whipped Cream. You can serve it alone, or you can use it to top off different types of desserts and coffee. For example, you can use this whipped cream with keto pumpkin pie, keto raspberry custard pie, keto chocolate mousse, keto crème brûlée, keto custard tart, keto hot chocolate, keto white chocolate mocha, different variations in coffee, lattes, matcha powder puddings, and more. This recipe can be used anywhere where whipped cream is required, and you want to stay healthy and keep your calories at a minimum.

For how long this Nitro Keto Whipped Cream can last?
This Nitro Keto Whipped Cream is best when it is served cold and immediately. Once it is dispensed, it can only hold its fluffy shape for approximately 2 hours, and after it, this cream starts to soften and becomes gooey. So it is better to use it fast and dispense it out when you are going to serve or use it. You can also store it in the refrigerator so that it lasts a bit longer compared to room temperature. If this cream is sugar-free, then you can store it for a minimum of 2 hours, but if sugar is added, then you can keep it covered and in the fridge for at least 3 hours, but it is better to make the quantity that is required and not more than it.
-
---