Galaxy Gas Nitrous Recipe: Vegan Chocolate Mousse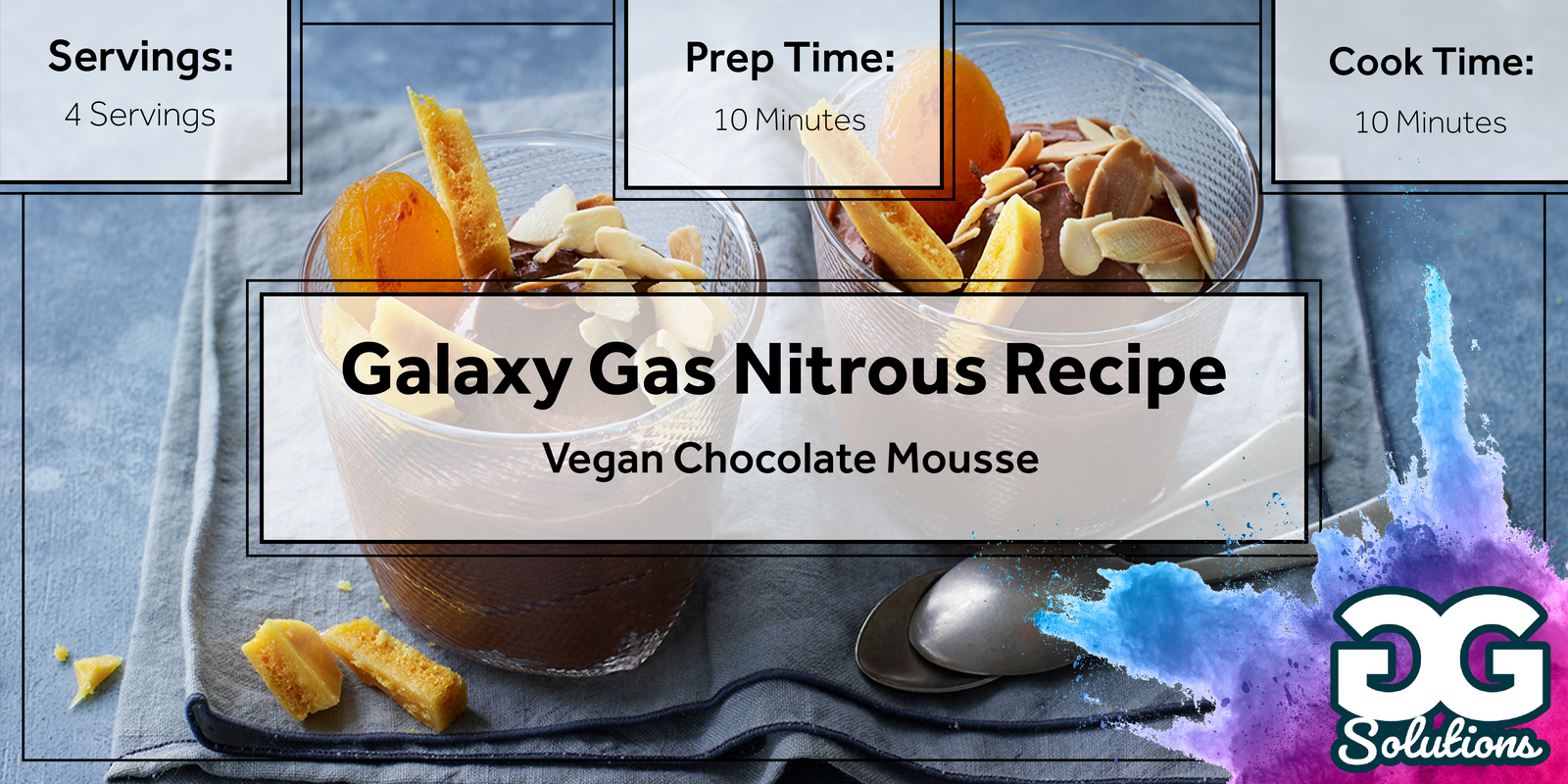 Everyone loves the creamy, smooth, and silky texture of a rich chocolate mousse. However, it becomes a luxury for those who are on specialty diets. If you are looking for a dessert that you can eat guilt-free after your dinner, the Galaxy Gas Nitrous Recipe: Vegan Chocolate Mousse is ideal for you. As the classical chocolate mousse contains eggs, dairy cream, refine, and sugars, most people can enjoy it. This deliciously vegan chocolate mousse is the richest, creamiest and frothiest chocolate mousse that you may have tasted in your life. Whipping up this mousse is quick and easy, so you can make it within minutes using your Galaxy Gas Whipped Cream Dispenser. The mousse requires you to blend all-natural and healthy ingredients, and it is highly nutritious for both adults and children. It will help you satisfy your sweet cravings without having a huge consumption of calories. The aerated mousse is so light and airy that you will not feel heavy or full after eating it.
| | |
| --- | --- |
| Level |   |
| Cook time | 10 Minutes |
| Preparation | 10 Minutes |
| Yield | 4 Servings |
Apparatus:
⦁ Whipped Cream Canister
⦁ Whipped Cream Charger

Ripe avocado – one half of a medium avocado
Banana – one half of a large banana (8 – 9 inches)
Hazelnut butter – 2 tablespoons
Maple syrup – 2.5 tablespoons
Cocoa powder – 2 tablespoons
Oat milk – 1 ¼ cups
Vanilla bean – ½
Salt – 2 pinches
Oats – 1 ½ cups + 2 ½ tablespoons
Honey – ¼ cup

Line a baking sheet with butter paper.
In a bowl, mix oatmeal, honey, and a pinch of salt. Spread this mixture on the baking sheet and bake for 8 – 10 minutes at about 375 degrees Fahrenheit.
Scrape the vanilla pod and mix it with avocado, banana, cocoa powder, hazelnut butter, maple syrup, and oat milk in a blender and puree well. For a mocha chocolate mousse, add one teaspoon of coffee.
Now pour this mixture into the Galaxy Gas Whipped Cream Dispenser

 

through a sieve and funnel.
Screw one Galaxy Gas Whipped Cream Charger

 

and shake vigorously to

 

infuse the recipe.
Keep in the refrigerator for a couple of hours so that the mixture becomes chilled.
Dispense directly on the baking tray with oats and serve with fresh berries.
You can top the mousse with anything you desire, such as shredded coconut, chopped nuts, fresh fruits, chocolate shavings, or vegan cream.

Is this vegan mousse a healthy dessert?
We have carefully formulated the recipe with healthy ingredients without compromising the taste and texture. Here is how it caters to the needs of all the people who have special dietary requirements.
Vegan: This recipe is formulated by keeping in mind the need of vegans. The recipe does not contain eggs and dairy products.
Gluten-Free: As more and more people have started avoiding products that contain gluten, the recipe does not contain anything made from wheat. However, those who have celiac disease must ask their doctor or dietitian before consuming anything that contains oats.
Dairy-Free: If you are intolerant to lactose, a carbohydrate present in milk, you can confidently consume this dessert. The chocolate mousse does not even contain a trace of dairy-based cream. Similarly, kids and adults with milk protein allergies can also consume this dessert.
Egg Free: Some people are not allowed to enjoy chocolate mousse because they possess a greater risk of infection from consuming any raw eggs. In this group, immune-compromised people, pregnant women, and young children are included. This vegan mousse does not contain eggs, and therefore there is no threat for salmonella infections. However, such people must not consume any leftover chocolate mousse stored in the refrigerator.
Healthy: Everything in the recipe, from avocado to oats, is super-healthy. We assure you that this is a guilt-free recipe laden with vitamins, minerals, and heart-healthy fats.
Sugar substitutes: Instead of processed sugar, we have used two kinds of natural sugars – maple syrup and honey. However, if you have diabetes, you should consult your dietitian before consuming these sugars as well. You can also add some natural or artificial sweeteners such as stevia if allowed by your dietitian.
Which blender is best for this recipe?
Use a stick blender for this recipe. In most of our recipes, we use stick blenders to give a smooth and creamy texture to mixtures without leaving any clumps. Another way of assuring that your mousse remains free from clumps of avocado or banana is to sieve it before pouring it into the Galaxy Gas Whipped Cream Charger.
However, if you do not have a stick blender, you can mash the fruits with a fork and then mix everything with the help of a whisk. Then finally, strain the mixture with a sieve to get a smooth chocolate mousse.
What type of avocados tastes best in the chocolate mousse?
Ripe avocados are best for this recipe as they have a sweeter taste. They have a darker color than the under-ripe ones. You can easily identify by gently squeezing them as ripe avocados are not so firm. The overripe avocados are mushy, and they also should be avoided. Make sure the avocados you are using are free from blemishes and bruises.
Pair this vegan-friendly chocolate mousse with our Infused Strawberry Margarita for the ultimate strawberry-chocolate experience!
-
---