Impressive
Explore the Galaxy of N2O Tanks
Our premium nitrous oxide cylinders are designed for top-notch performance, ensuring a seamless experience for all your needs.
Shop Now
Gastronomy Infusion Nitrous Oxide
Gastronomy Infusion Whip Cream Chargers are made to improve your culinary experience by making the production of whipped cream and infused dishes efficient and simple.
Shop Now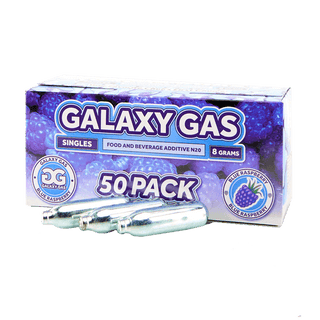 Shop Nitrous Oxide Chargers
8g Whip Cream Chargers (N2O)
Galaxy Gas is the inventor of the Flavored Whip Cream Charger with the highest grade N2O on the market.
Shop All Chargers
WHY GALAXY GAS IS THE BEST?
High Quality Gas
Galaxy Gas Infusion XL tanks are filled with FDA lab certified, 100% food-grade nitrous oxide (N2O) gas. 
Created To Perfection
Galaxy Gas Infusion nitrous oxide (N2O) tanks are made of the highest–quality materials and are engineered to the highest industry standards. For use alongside a pressure regulator.
Cost Effective
Galaxy Gas Infusion nitrous oxide (N2O) tanks provide more bang for your buck as each tank contains between 375G to 2000G of gas, producing more whipped cream than traditional methods. 
★★★★★

"Galaxy Gas has transformed my culinary creations! Their N2O tanks are a game-changer for my desserts. Fast delivery and top-notch quality!"
★★★★★

"As an auto enthusiast, I rely on Galaxy Gas for nitrous oxide. Exceptional products and service. My go-to for that extra boost!"
★★★★★

"Galaxy Gas is a lifesaver for my whipped cream business. Their N2O cylinders are consistent and reliable. Highly recommended!"
★★★★★

"Impressed with Galaxy Gas! Using their N2O tanks for my barista skills. Great customer service and prompt delivery."
★★★★★

"Galaxy Gas N2O tanks have made my molecular gastronomy experiments a breeze. Superb quality and speedy shipping. A must-try!"