Galaxy Gas Nitrous Recipe: Herb Sour Cream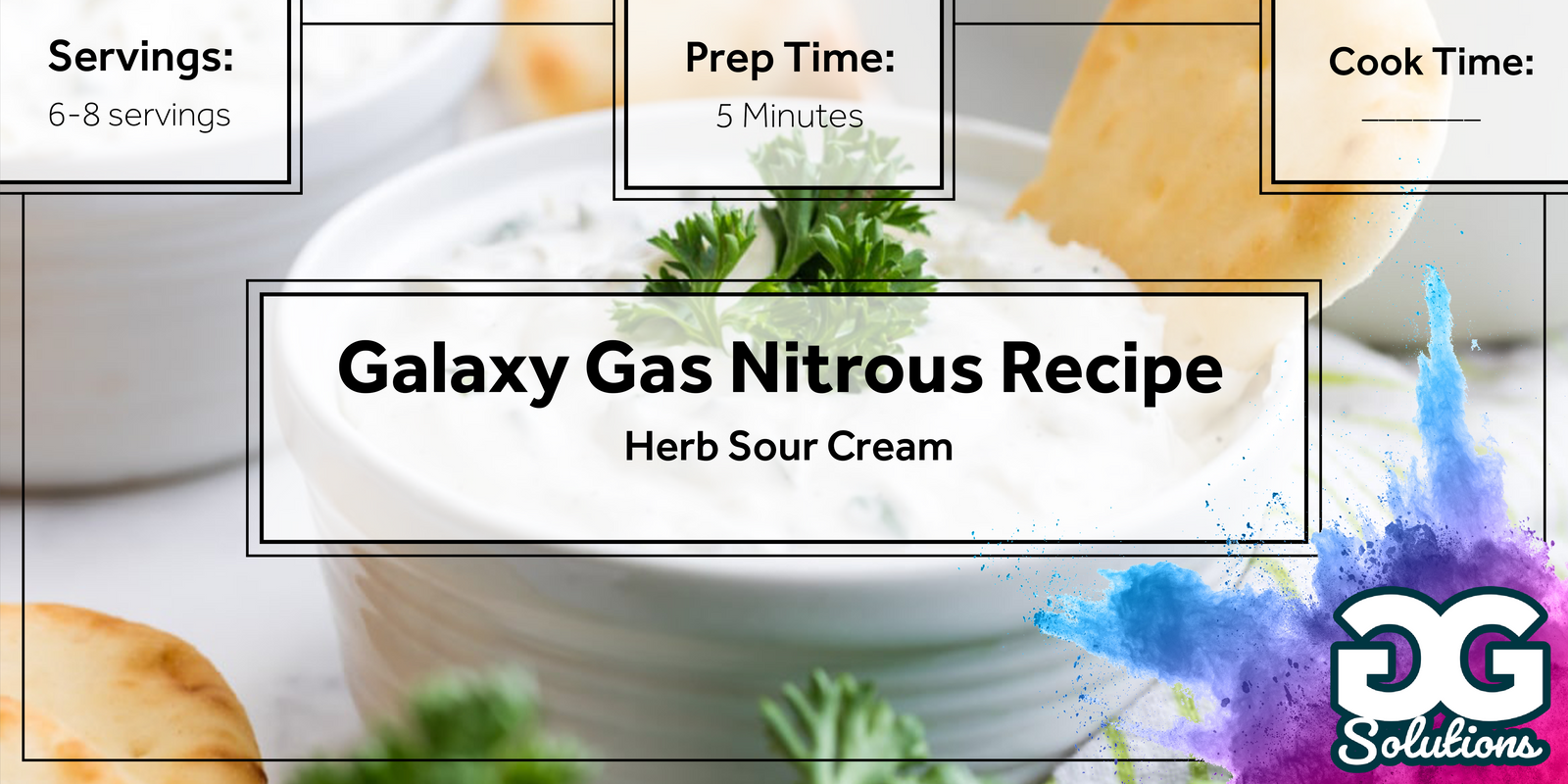 The creamy, smooth, and flavorful herb sour cream is the ultimate dip that will boost the flavor of any dish. Serve it with roasted or grilled meats, fish, vegetables, or baked potatoes. The creamy herb sauce is delicious and refreshing flavors of herbs will brighten up your dishes all around the year. Serve it with holiday roast or summer Bar B Que, or make a platter containing assorted vegetables.
The Galaxy Gas Nitrous Recipe: Herb Sour Cream recipe is unique as in this recipe we are not adding the herbs directly to the sauce. The herbs are first infused in a base oil; we have used canola oil. You can use olive oil too. Then all the ingredients are whipped and aerated in the Galaxy Gas Whipped Cream Dispenser to produce a very frothy, creamy, and delicious dip. Whenever you have to host a party, you must whip up this versatile and cool dip. You can create interesting platters around this dip by using your creativity. The best thing is that it takes only a few minutes and you can prepare it in advance. Just serve it with an assortment of foods and impress your guests.
| | |
| --- | --- |
| Level |   |
| Cook time |   |
| Preparation | 5 Minutes |
| Yield | 6-8 Servings |
Apparatus:
⦁ Whipped Cream Canister
⦁ Whipped Cream Charger

Yogurt – 1/3 cup
Curd cheese (Quark Cheese) – 1/3 cup
Heavy sour cream – ½ cup
Milk – ½ cup
Lemon juice – 1 tablespoon
Canola oil – ½ cup
Fresh mixed herbs – 1 tablespoon ( parsley, cress, dill, basil, thyme)

Roughly chop the herbs and rub them between your hands to crush them slightly.
Pour the canola oil and herbs into a Galaxy Gas Whipped Cream Dispenser.
Rest at room temperature for one hour and vent the whipper.
Strain the oil with the help of a sieve.
Mix this herbal oil with other ingredients and pour everything into Galaxy Gas Whipped Cream Dispenser.
Attach one Galaxy Gas Whipped Cream Charger

 

charge, and shake the cream whipper about 8 – 10 times to

 

infuse the recipe with nitrous oxide.
The infused oils give a great herb flavor that lasts long in the dip and on the palate.

Which dishes go best with herb sour cream?
Here are some of the ways to use this creamy herb sauce:
Roast Beef: Neutralize the hot flavors of beef roast with this cold dip
Grilled Meat: Add the herb sour cream to grilled meats to make them more flavorful.
Grilled or pan-fried fish:
Potatoes: drizzle the sauce over baked potatoes or boiled baby potatoes.
Vegetables: Dip your favorite vegetable sticks.
Potato chips
Tacos
Enchiladas
Omelets
What variations can I make in the recipe?
Looking for a low-calorie version: we have good news! The Galaxy Gas Whipped Cream Dispenser adds volume and reduces the number of calories per serving by whipping it up.
Confused about the herbs? You can use a blend of fresh and dried herbs or all fresh or all dried herbs. Do whatever is feasible for you in terms of availability and preference. One tablespoon of fresh herbs equals one teaspoon of their dried counterparts.
The choice of herbs depends on your personal preference. You can also garnish the dip with some fresh herbs, but it's optional.

What is Quark Cheese?
Quark cheese is a creamy, mild cheese made by the addition of lactic acid in milk. The resulting acidity causes the whey and curd to separate. The solids are then turned into Quark. It is quite similar to yogurt and cottage cheese. It has a texture very similar to that of yogurt. The smoothness of the final product depends on the mesh that is used to strain it. A fine mesh produces a silky smooth quark cheese.
Quark cheese is considered a healthy food because it has a low fat, high protein content. Some people prefer replacing sour cream with quark cheese because it has lesser calories than the same amount of sour cream.
Are you in love with the taste of sour cream? Make sure to try our Nitrous Infused Yogurt Sour Cream Dressing. It'll easily replace your go-to salad dressing in no time!
-
---