Galaxy Gas Nitrous Recipe: Roasted Sweet Potato Soup Foam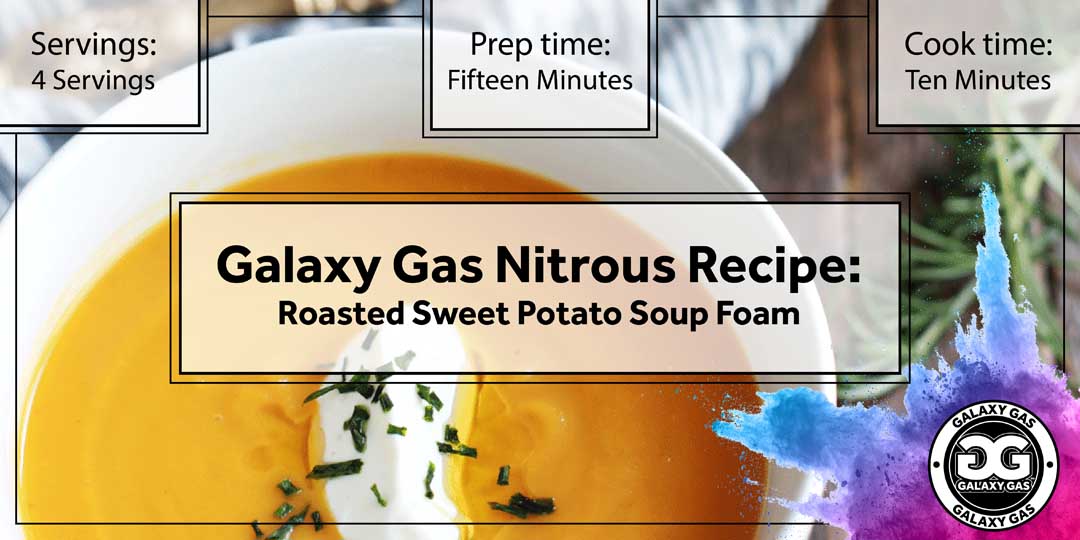 The soup season is here, so are the fresh sweet potatoes. It's nature's way of providing us with food when we need them the most. Most of us have spent our childhood licking clean the decadent bowls of steaming sweet potato soups. Why not introduce our kids to one of the best of our childhood's comfort foods, but with a modern twist? Today's kids are fed with packaged foods and junks, and they have developed nastier taste buds. It's a challenge to make them accept healthy foods with all their heart, especially if it comes to vegetable soups. Why not become creative and present the most modern and newest versions of our comfort Galaxy Gas Nitrous Recipe: Roasted Sweet Potato Soup Foam? We first roasted sweet potatoes to make these soups, then made the soup with molasses, thyme, and ginger for a more tantalizing flavor. When the soup is prepared, you have to pour it into the Galaxy Gas Whipped Cream Dispenser charged with Galaxy Gas Whipped Cream Chargers. The aerating process imparts a foamy texture and lightens the soup. You can also use the sweet potato foam as a sauce with grilled meats or vegetables. It also makes a tasty dip which you can serve at parties.
| | |
| --- | --- |
| Level |   |
| Cook time | 10 Minutes |
| Preparation | 15 Minutes |
| Yield | 4 Servings |
Apparatus:
⦁ Whipped Cream Canister
⦁ Whipped Cream Charger

Sweet potatoes – 3 large or four medium – cut into large pieces
Canola oil
Salt and pepper
Chicken or vegetable stock – 2 – 3 ½ cups
Ginger – 1" piece – finely chopped
Molasses – ½ tablespoon
Thyme leaves – 6 tablespoons
Honey – 1 tablespoon
Heavy cream – 1 cup
Small marshmallows
Thyme
Walnuts
Molasses

Add salt, pepper, and canola oil to the sweet potato chunks.
Place on a sheet pan and keep in a preheated oven at about 232 degrees centigrade or 450 degrees Fahrenheit.
Bake for 20 – 30 minutes until the sweet potato turns a golden brown color.
Place the roasted sweet potatoes, one cup stock, molasses, ginger, and thyme in a pot.
Let it cook till the sweet potatoes become soft and tender. Add more stock during cooking if required.
Add honey and then blend the mixture until it forms a smooth puree.
Pour this mixture into a Galaxy Gas Whipped Cream Dispenser

 

through a sieve and funnel.
Charge with Galaxy Gas Whipped Cream Charger

 

and shake well to

 

infuse the nitrous into the recipe.
Place in a hot water bath to keep the cream whipper hot till serving.
Dispense the sweet potato soup into bowls. Garnish with thyme leaves, marshmallows, walnuts, and drizzle some molasses.

What to serve with roasted sweet potato soup?
The creamy soups are served best with crusty bread, which is great for dipping. The soup can be served as a comforting winter lunch on its own. You can also serve the soup as a side dish with beef, chicken, pork, or black beans.
The soup has a rich and creamy texture. Therefore we recommend serving it with fresh lettuce salad tossed in vinaigrette.

How to store, freeze and reheat the sweet potato soup?
You can store the soup in the fridge for about five days in an airtight container. If you need to freeze the soup, then it is better to freeze it without adding the cream. When you desire to eat or serve the soup, you can thaw it in the fridge overnight, add cream and then whip it in Galaxy Gas Whipped Cream Dispenser.

Yams vs. Sweet potatoes – are they the same thing?
You will find people selling the same thing with both the names, but are they the same thing? Or is there any difference? We can say that most of the sweet potatoes are also sold as yams. Here are some of the characteristics of sweet potatoes and yams.
Sweet Potatoes:
Sweet potatoes are characterized by their reddish-orange peel and pleasantly orange flesh. Sweet potatoes that have a large size are rich in starch. Ideally, they should have unwrinkled, tight skin that is free from blemishes. Sweet potatoes are a rich source of Vitamin A, C, and manganese.
Yams:
Yams are not easily available at every grocery store. They have dark brown skin, and they are less sweet. They are fibrous, and if not blended well, their fibers will come in your dish.

How to choose sweet potatoes for soup?
Sometimes people get confused between yams and sweet potatoes. Here are the characteristics of sweet potatoes that we used in this recipe.
Buy sweet potatoes with orange or red skin. They have moist flesh that is sweeter and creamier than the other varieties.
If an orange-skinned sweet potato is labeled as yam by a grocery store or supermarket, you can still buy it.
Don't buy the brown-skinned yams as they are starchier, and they have a dry texture.
Buy only the fresh produce, which has no soft spots. Ideally, the skin should be smooth and free from discoloration. Make sure that they are not blemished.
---