Galaxy Gas Nitrous Recipe: Tiramisu with Berries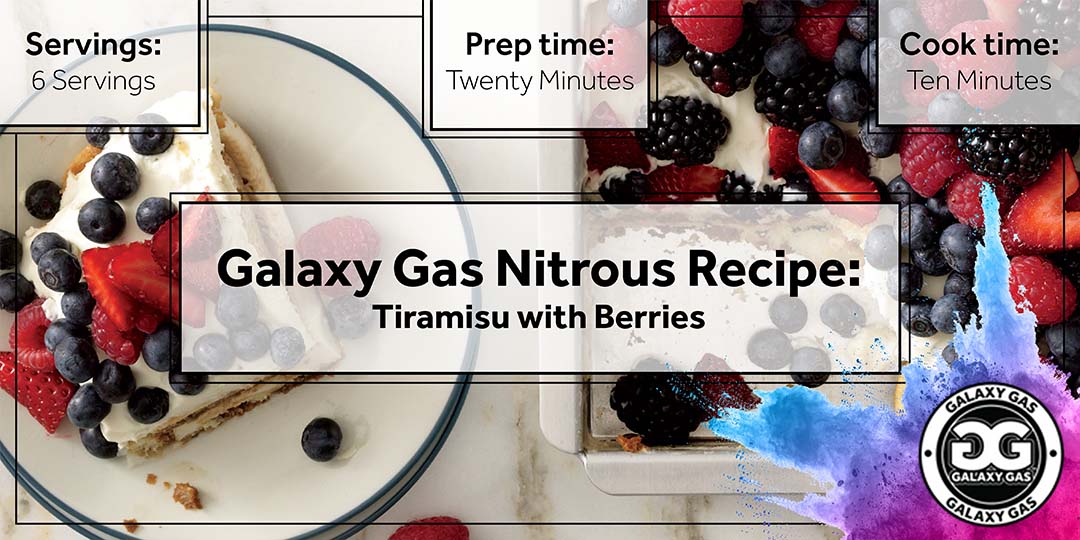 Tiramisu is a rich Italian dessert that we turned into a 10-minute easy version, Galaxy Gas Nitrous Recipe: Tiramisu with Berries, by whipping the cream and cheese topping in the Galaxy Gas Whipped Cream Dispenser. We added sweet fresh berries to give a new twist to the dessert and make it a perfect treat for the summer season. The creamy mascarpone mousse layered on crunchy ladyfingers and tangy berries is so delicious that you will find it difficult to stop yourself. Whip up this amazing recipe and inspire your guests.
| | |
| --- | --- |
| Level |   |
| Cook time | 10 Minutes |
| Preparation | 20 Minutes |
| Yield | 6 Servings |
Apparatus:
⦁ Whipped Cream Canister
⦁ Whipped Cream Charger

Eggs – 3
Powdered sugar – 7 tbsp.
Mascarpone – ¾ cups
Heavy cream – 2/3 cups
Gelatin – 1 sheet
Ladyfingers (biscuits) – 1 packet
Espresso for dipping the biscuits
Mix berries – 2 cups

Take some water in a bowl and place the gelatin sheet in it. Let it soak for a few minutes.
Take a bowl and break the eggs in it.
Now add icing sugar, cream and mascarpone. Mix well using a hand blender.
Mix the dissolved gelatin in the cream mixture.
Pour into your Galaxy Gas Whipped Cream Dispenser

 

and charge with

 

1 Galaxy Gas Whipped Cream Charger.

Why is my Tiramisu getting so runny?
Tiramisu is made from mascarpone cheese, cream and eggs. Several reasons can cause a runny tiramisu. Most often, people over beat the mascarpone cheese, which causes it to curdle. Due to curdling, it releases its water and makes the tiramisu runny.

Does Tiramisu harden in the fridge?
The dessert needs a good time in the fridge to yield the best setting and flavors. The ladyfingers or biscuits you are using soak some moisture, especially if left overnight, thus enhancing the texture and flavor of the dessert.

How to prevent Tiramisu from becoming soggy?
For some people, Tiramisu turns out to be soggy. They are soaking the biscuits more than required. Soggy biscuits may turn this delicate desert into a mess. You can soak the biscuits by gently dipping them into freshly brewed espresso or use any liquor such as amaretto, rum, Irish cream or sambuca.

Does Tiramisu have raw eggs? Is it safe to eat?
The traditional Tiramisu recipe includes raw eggs. To be on the safer side, it is better to use pasteurized ones treated at a certain temperature to kill pathogenic organisms. These pasteurized eggs are easily available in the local grocery stores.

Which biscuits goes best in Tiramisu?
Italian style ladyfingers are typically used for making Tiramisu. They come as Savoiardi or Buckytom. They usually don't absorb too much of the coffee. You will feel that they are easier to handle as they don't become soggy quickly as long as you handle them properly.

What can I use instead of Mascarpone cheese?
Mascarpone is an Italian cheese that has a soft, ultra-creamy texture. It is a popular ingredient in both sweet and savory cooking. However, its pleasant flavor and creamy texture make it ideal for desserts and sweet recipes. You can whip it into a light foam or mousse by combining it with cream and sugar.
This mousse tastes great with any seasonal fruits, especially berries. There is no other cheese that can taste better than Mascarpone in a dessert recipe. However, if it is unavailable due to any reason, you can try the recipe with cream cheese.

What variations can I make with the berry tiramisu?
There are a few variations that you can make in this dessert as per your taste.
You can use amaretto liquor instead of coffee.
You can soak the raspberries, strawberries and blueberries in a sugary syrup to give them a more sweetened flavor.
Which berries go best in this dessert?
Berries are the essence of this recipe. We have used a mix of bright colored, fresh strawberries, blueberries and raspberries to flavor our dessert version.
You can use whatever berries you and your family like. You can also use frozen berries, which are picked and preserved at the height of their season. In this way, you can enjoy the dessert in both summers and winters.
-
---