Galaxy Gas Nitrous Recipe: Luck of Irish Milkshake with Mint Whipped Cream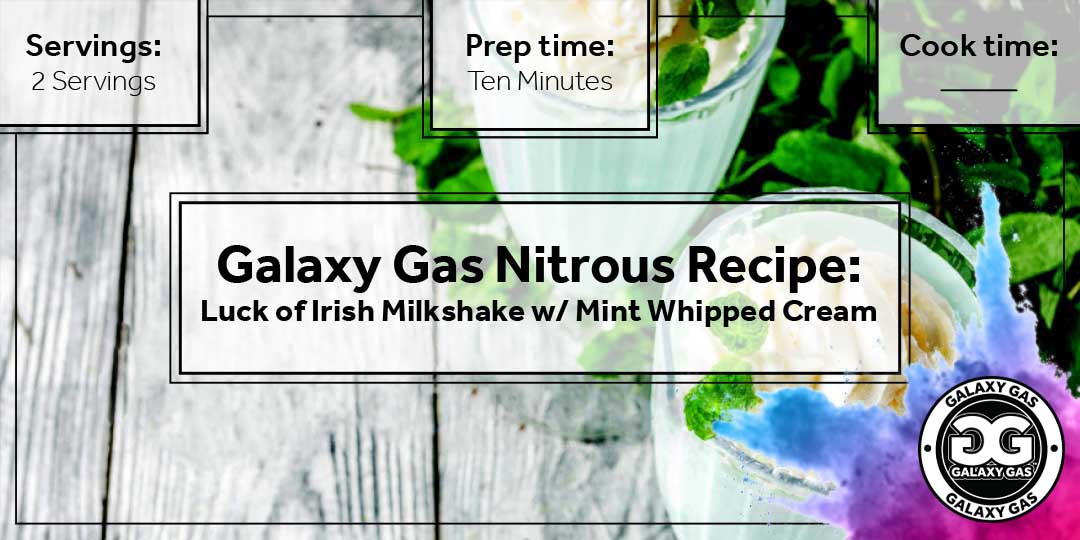 Celebrate St. Patrick's day with your homemade Irish milkshake (or the classical Shamrock shake, as many people call it) with a creamy twist. A delicious adult drink closely associated with St. Patrick's day is made with Mint chocolate chip ice cream and Bailey's Irish Cream. Whether or not you celebrate Saint Patrick's day, this easy peasy and boozy shamrock are worth trying! While some recipes for this boozy shake will use vodka, we have added some Irish Whiskey for a delightful taste. Feel free to experiment with your favorite liqueur. You can also skip the liqueur if you are not into drinking. Bailey's Irish Cream is the secret ingredient that will make your milkshake irresistible. Mint chocolate chip ice cream has its significance. It will impart a minty flavor with a hint of chocolate. Add a few drops of green food coloring if you desire to make your shake more festive. Don't forget to top the milkshake with heavy cream aerated in the Galaxy Gas Whipped Cream Dispenser. It will make every sip of this Irish delicacy more luxurious.
| | |
| --- | --- |
| Level |   |
| Cook time | |
| Preparation | 10 Minutes |
| Yield | 2 Servings |
Apparatus:
⦁ Whipped Cream Canister
⦁ Whipped Cream Charger

Mint chocolate chip ice cream – 2 cups
Milk – ¼ cup
Bailey's Original Irish Cream – ¼ cup
Irish Whiskey – 1.5 ounces
Chocolate syrup – for garnish
Heavy whipping cream – 2 cups
Peppermint extract or peppermint syrup – 1 teaspoon
Icing sugar – 2 tablespoons

Pulse together ice cream, milk, Irish whiskey, and Bailey's Irish cream in a blender until it becomes smooth and creamy.
Drizzle the chocolate syrup in a frosted glass.
Pour the Irish milkshake into the glass and dispense a generous amount of whipped cream over it.
Serve immediately.
Mix the cream with sugar, peppermint extract, and green food coloring (optional) in a bowl.
Pour this mixture into a Galaxy Gas Whipped Cream Dispenser

 

and charge with one Galaxy Gas Whipped Cream Charger.
Shake vigorously and keep in the fridge until chilled.
The cream can be stored in the refrigerator for up to ten days.

Does Baileys still make mint chocolate?
In 2005, Baileys introduced mint chocolate, but it was discontinued in 2006. It had 17% ABV (alcohol by volume). It had a creamy texture and a rich flavor.
Combining Bailey's Irish cream with mint chocolate chip ice cream will give the same creamy, delicious flavor.

Is Mint Chocolate Chip Ice-cream a great flavor?
Though we cannot rate the mint chocolate chip ice cream as the most versatile flavor like chocolate and vanilla, it is not bad. It will not go with other ice cream flavors. But you can use it for flavoring your desserts, milkshakes, or boozy drinks.

How to serve this drink?
This homemade boozy milkshake can be served with a variety of toppings. Here are some fun topping ideas for this festive milkshake;
Chocolate chips or chocolate shavings
An extra scoop of ice cream
Mint cookies crumbs
Chocolate mint candies
Marshmallows
Crème de Menthe
Chocolate syrup
Fresh mint sprigs
How to serve this drink to children?
Irish milkshake is a delicious drink that children can enjoy, but you have to remove all the boozy ingredients in that case. Simply blend the mint chocolate ice cream with the milk of your choice and top with the whipped cream.

Do mint and chocolate go together?
Mint and chocolate make a great combination, just like peanut butter and chocolate. They make a classical dessert flavor and may come in all forms, be it ice cream, cookies, or candy. However, we you are a grown-up, you may desire a boozier version of mint and chocolate, and that is where our delicious Mint chocolate chip milkshake fits in.

What variations can you make in this recipe?
There are several ways in which you can alter the recipe to match your taste preferences!
Try making it with your homemade Irish cream.
Use Crème de Menthe in the recipe
Use your favorite sweetener or syrup to sweeten the cream
Make a booze-free version of the recipe to enjoy with your children
-
---