Whipped Cream Infusions: An Introduction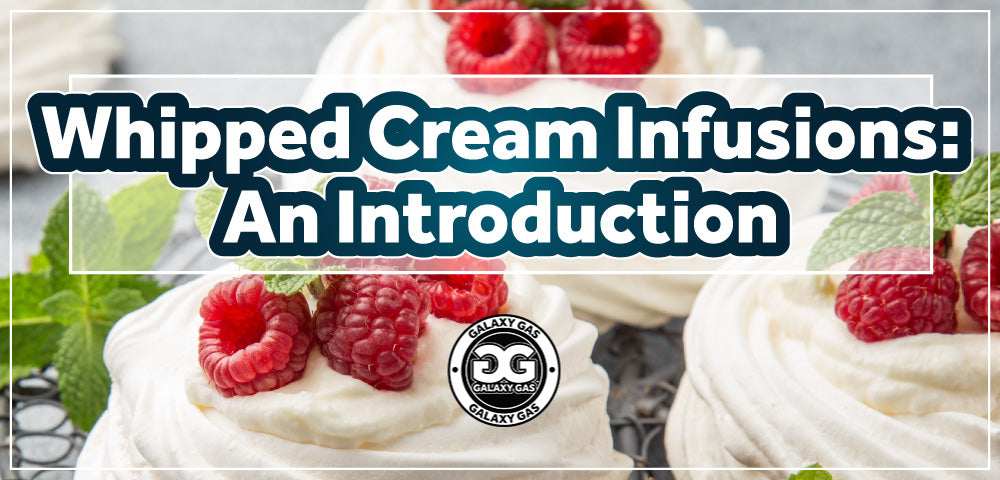 Introduction to N20
The first question we normally deal with is something along the lines of "why would I or my smoke shop need or sell Nitrous infusions for whipped cream"? Whipped cream infusions like Galaxy Gas create opportunities for new marketing and networking that may not have been available before. 
Should Smoke Shops Carry N20
As a smoke shop, upgrading your inventory to carry Galaxy Gas infusions can open the door to many different areas of business you wouldn't normally find yourself operating within. For example, did you know you could actually infuse THC and CBD into whipped cream and apply it to whatever you so choose? Coffee, deserts, even your significant other (ask them first) are great places to blast some of your infused whipped cream. Though, it doesn't stop there. Think of the coffee shops and cafes that make nitro cold brew, I wonder if you could begin providing better deals by snagging some Galaxy Gas wholesale…Be our guests. 
If you're not a smoke shop, what's the big deal with whipped cream chargers and infusions? The key point in this line of questioning is double tiered: the first tier is that representing flavor and the advantages that come with crafting your own whipped cream at home. The second tier is that regarding health. Crafting your own blend of whipped cream at home means you get to choose the ingredients that you're actually putting into the cream instead of dealing with carcinogenic sugars and toxic fillers found in store-bought whipped cream. 
Galaxy Gas Blueberry Mango Infusion Singles starting at $24.99
Below we're going to cover functionality, sales potential, trouble shooting, as well as throw in a few of Galaxy Gas's favorite recipes for homemade or infused whipped cream!
How Does A Whipped Cream Charger work?
Galaxy Gas Dispenser Only $34.99
Whipped cream dispensers or crackers are used to store your homemade whipped cream inside of its tank until you drop the whipped cream canister inside and release the nitrous into the tank. This then aerates the cream in a very quick fashion, which adds fluffiness and texture. This makes your homemade whipped cream ideal for pancakes, pastries, deserts, and much more!
 The whipped cream dispensers utilize small chargers filled with nitrous oxide to aerate, as I previously mentioned, and fluff the cream within the dispenser. The cream is then pushed upwards through the nozzle and onto your desired surface. Now, Galaxy Gas offers the single whipped cream infusions like everyone else, but they also offer larger infusions. So instead of a ton of little silver canisters rolling around all over the place, you can cut down on the environmental harm and refill you dispenser via the larger tank infusions. But if you choose to do so with the larger tanks, you'll need a regulator and hose to refill the tanks.
Doesn't Store-Bought Whipped Cream Last Longer?
 Photo Credit: A Couple Cooks
Okay, so store-bought whipped cream does in fact last longer, but did you know that you can actually keep your homemade whipped cream in the FREEZER for up to three weeks? Normally, if you were to store you cream in the refrigerator it may only make it a few days, but this trick will save you a lot of time and heartache. 
When dealing with any dairy products, it's best to keep them below 40 degree Fahrenheit to avoid spoiling. Unsure about whether your whipped cream is still good? Trust your nose instead of your gut. If it stinks, toss it out. There's no need to taste test potentially curdled milk, just make something new! A fun fact to help you remember the importance of this storage is that in comparison to normal, store-bought milk, cream has a much higher percentage of milk fats (38-40%). This is the stinky culprit you're trying to avoid. 
 How To Make BETTER Whipped Cream (in order)
Unscrew top of dispenser, place desired tip inside & make sure it is connected securely to the canister.
Spill cream and/or desired mixer up but DO NOT overfill

 

Screw on top carefully as to avoid cross threading.

Place Galaxy Gas Infusion charger into the back of your dispenser,

making sure the nipple point is facing upwards. Think, the canister must be released into the dispenser so the nozzle has to feed into it. When you hear the hissing sound of the nitrous releasing into the tank that's how you know it's working!
Make sure you

shake the dispenser

a little bit to make sure your cream is whipped and fluffed effectively.

 

Press the trigger and get ready for your cream! (If it's too runny make sure to shake the dispenser a little bit more.
After your charger is empty, dump what's left into a sink. Take the top off and clean the inside to make sure there's no leftover residue hiding there.

 
*REMINDER: this is actual milk-based (usually) cream that you're using so remember that it IS perishable and will begin to stink if left unattended for too long. 
Galaxy Gas's Favorite Recipes
Galaxy Gas Large .95L Tank ONLY $34.99 
Just a heads up: Any infusion can be mixed with THC or CBD butter to give it that extra *kick*
Sammy's Chocolate Mousse
Easily described as the richest recipe on our list.

1 cup regular whipping cream

1 teaspoon instant coffee

5 tablespoons instant cocoa

1–2 tablespoons cognac or brandy

3 tablespoons powdered sugar

Make sure you mix the ingredients well, then place the dispenser head back on, charge with one Galaxy Gas Whipped Cream Charger.
Amaretto Atlanta Coffee Topping

You might have noticed, but coffee and liqueur are some of our favorite combos with Galaxy Gas.

1 cup regular whipping cream

6 tablespoons amaretto

3 tablespoons powdered sugar

Mix well your ingredients within the dispenser, load a charger of Galaxy Gas, prepare to place your whipped cream!
Experimentation serves you here because there is always room for innovation and invention. Who knows, you might come up with the next best cocktail recipe. 
Low-Carb "Keto" Whip Cream
Of course we've go the Keto Fanatics covered!

1 cup heavy whipping cream

3 teaspoons (or to taste) Splenda or other sugar substitute

1 teaspoon vanilla

Mix ingredients within dispenser, replace cap, throw in a charger, prepare to serve your delicious whipped cream. 
Rachel's Tiramisu
This last recipe is quite flavorful so it's perfect for people who find plain whipped cream a little too bland.

2 yolks from an egg

1 cup regular whipped cream

3 tablespoons powdered sugar

1 teaspoon amaretto

Mix completely, charge with a single canister, and shake. This is a great mix to pair with ladyfingers cookies!
Michele's Vanilla Yogurt Dream
If you're into tart flavors, the yogurt in this mixture will be your favorite!

1/2 cup plain yogurt

1/2 cup regular whipping cream

3 tablespoons powdered sugar (or to taste)

3 teaspoons of Bourbon Vanilla

Mix your ingredients well in the dispenser, replace the top, charge with a Galaxy Gas Infusion, and prepare to serve some magnificent whipped cream. This is great cream mix to throw some fresh fruit into as well!
Troubleshooting Your Whipped Cream
Photo Credit: Cream Whip Au
Runny cream: This could be one of two things. The first thing that it could be that there's not enough nitrous charger inside or that there's too much. The simple solution for this is to make sure you're using the same brand of whipped cream chargers and dispensers (Galaxy Gas has got you covered here). If it's overfilled, simply unscrew the top and make sure the contents are at a reasonable level and not above the max fill line. 
Whipped cream not cold enough: Refrigerate before use. Duh. 
Too much whipped cream is left in the canister and not enough gas: This could indicate a broken piece. Make sure to double check all of your connection points and lids so that everything is correctly secured. 
Inconsistent results: This is usually the result of something blocking your nozzle's airflow. Rinse and check airflow sites. 
Gas is escaping from the nozzle: This could be and most likely is a broken head gasket. Check your tools and make sure. This problem will probably require a new head gasket, if not an entirely new dispenser. 
No cream dispensed at all: This is either a pressure issue or a clog, which can be easily remedied by running the nozzle under hot water and shaking the canister around a good bit. This should dislodge anything obstructing the dispenser's nozzle.
Chargers fail to open: This is usually indicative of warping or thread wear out on your dispenser. This is not an issue with the chargers themselves, but with the dispenser instead. This solution usually requires a new head gasket as well. 
Dispenser fails to open: Sometimes repeatedly releasing high pressure contents into the dispenser causes the threads to fall out of line or the top to warp. Again, running hot water around the seal will usually loosen it up enough. By causing it to expand and contract on the device. 
Photo Credit: Whip-Eez
Disclaimer: not a Galaxy Gas Dispenser 
How To Clean Your Dispenser
Make sure all of the excess nitrous has been dispelled before unscrewing the cap, then unscrew it.

 

Take the nozzle, protective top, and charger holder to the side for now.

 

If there's also a metal base, remove it.

 

Take out the gasket ring (flat) from inside the head.
Slide the pressure valve stick into a position where it can be removed and adjusted.
Scrub all of the parts delicately with warm water and soap until they're clean.

 

CLEAN PRESSURE VALVE THOROUGHLY.

 

If you're keeping the dispenser in the refrigerator, make sure the nozzle is off before storing.

 

Make sure to let all of the components of your dispenser air dry before stowing away for sanitary purposes
---